Supreme Court Preserves 'Fair Share' Fees for Full-fledged Public Employees
On June 30, 2014, the U.S. Supreme Court issued its much-anticipated decision in Harris v. Quinn. A 5 to 4 majority of the Court maintained more than 35 years of precedent upholding agreements to require payment of fair share fees by state and local government employees. Because of the very unique employment relationship between the State of Illinois and workers who provide private, in-home health care services under Illinois' Medicaid waiver programs, however, the Court held that the union representing this limited group of workers could not collect fair share fees if those workers elected not to become dues-paying members of the union.
Read more about the Supreme Court's decsion on fair share fees...

Congress Relaxes Restrictions on Political Activity by Certain State and Local Government Employees
In May, the federal Office of Personnel Management issued its final rule implementing the Hatch Act Modernization Act of 2012. The Hatch Act is a federal law that regulates the political activities of many public employees at the local, state, and federal levels. The recent changes to the Act have eliminated longstanding restrictions on state and local government employees who wish to run for political office.
Read more about these relaxed restrictions for public employees...

How Social Security Benefits Affect Pennsylvania Child Support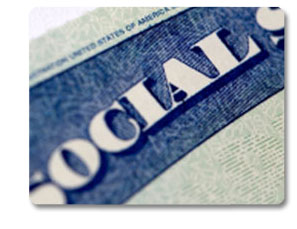 When a parent involved in a child support matter receives Social Security Disability payments, the normal child support calculation guidelines are replaced with a supplemental and more complex analysis. This supplemental process is intended to reflect the additional income and unique nature of Social Security Disability insurance benefits.

Social Security Disability insurance, or SSD, is a federal disability insurance program that pays benefits to individuals who have been classified as disabled pursuant to federal guidelines. When a parent receives SSD, their dependents are also eligible to receive a monthly benefit of up to 50% of the monthly benefit of the parent (this is called the "derivative benefit"). In such cases, derivative benefits may be proportionally reduced so that no "family" may receive more than 150-180% of the disabled person's benefit.
Read more about SSD and Pennsylvania child support...

Same Sex Marriage in Pennsylvania: An Employee Benefits Perspective
Last year's U.S. Supreme Court decision in United States v. Windsor significantly changed the legal landscape for same-sex marriage. In that case, the Supreme Court held that Section 3 of the federal Defense of Marriage Act, which defined "marriage" to mean only a union between a man and a woman and "spouse" to refer to a person of the opposite sex, was unconstitutional as a violation of equal protection pursuant to the Due Process Clause of the Fifth Amendment. The landmark Windsor decision means that same-sex marriages performed in a state that recognizes same-sex marriage must be treated the same as opposite-sex marriages for purposes of federal law.
Read more about the impact of same sex marriage laws in Pennsylvania...

Attorney Insights – Marianne Henry Saylor Presents 'Defining Workers' Compensation in Pennsylvania'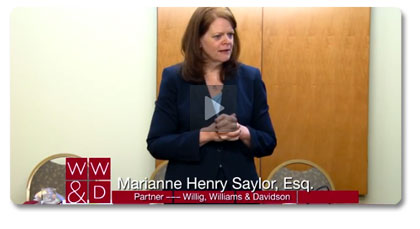 Pennsylvania workers' compensation attorney Marianne Henry Saylor reviews the basics of workers' compensation law in Pennsylvania. Saylor explains that the law covers wage loss benefits for time missed from work and medical expenses related to treatment, but not pain and suffering. Click here to watch the full video...

Attorney Insights – Scott M. Orloff Discusses the Family Law Practice at Willig, Williams & Davidson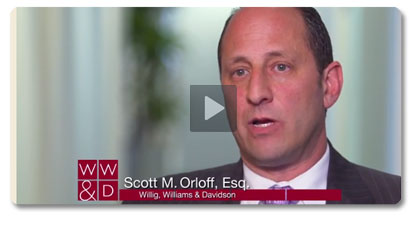 Pennsylvania family law attorney Scott Orloff says the seven family law attorneys at Willig, Williams & Davidson are able to draw on the insight from other firm attorneys on everything from workers' compensation to real estate. In addition, his own background in tax matters adds a component of experience many other family law attorneys lack. Click here to watch the full video...

Featured Practice Area: Family Law
The Domestic Relations / Family Law Group at Willig, Williams, & Davidson is committed to helping clients get through some of the most difficult times in their lives as smoothly as possible. From cases of divorce to child custody to support, no client is just a fee or just a file to Willig, Williams & Davidson. The firm understands that its attorneys are dealing with people's lives and families, and that influences everything they do for a client, from the initial consultation to the final settlement of assets. Read more about the firm's Family Law practice here...

Workers' Compensation Q&A – Did You Know?
Our firm often answers questions about workers' compensation. Here are some of the most frequently asked: